Underwater Backhoe Big Crab Video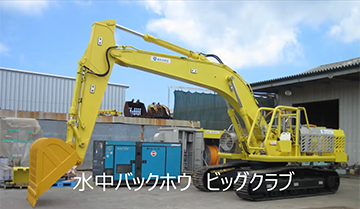 Outline of Big Crab
The multifunctional underwater construction machine "Underwater Backhoe Big Crab" is a construction machine that realizes drastic improvement of efficiency in underwater work.It shortens the construction period,improves safety by rapid construction, and is suitable for a wide range of underwater work by attachment.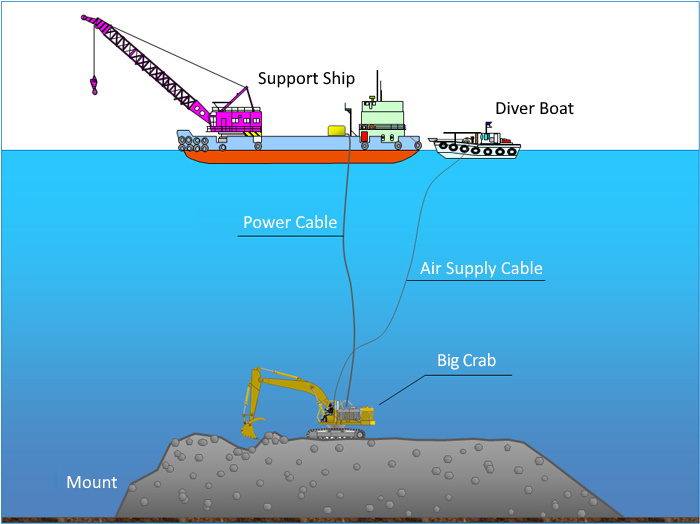 Conceptual Diagram of Construction
Big Crab Mascot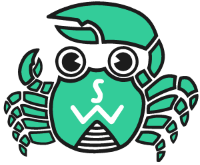 The underwater backhoe is called "Big Crab," a nickname derived from a fiddler crab. This crab has one large claw and is used as the machine's mascot.
Amphibious Backhoe "Big Crab No. 7"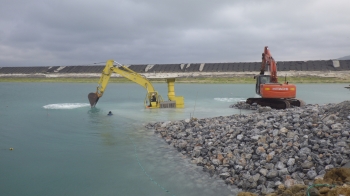 Operation of Big Crab No. 7 (Amphibious Type)
We have a record of achievements in our construction projects since we began operating our first unit in actual waters in 1994. Now we have built and started operating our new No. 7 unit.
No. 7 can be used as an underwater type or as an amphibious type by exchanging the power unit.
It does not require a support ship and can be installed from land to a depth of -4 m since the amphibious type is run by a diesel engine,
The underwater type can be used in deep water by installing a power unit on the support ship.
Underwater Type
Amphibious Type
Base Machine
0.8 m3 Class Backhoe
Applicable Water Depth
-1.5m~-50m
Land: -4 m
Power (exchange type)
Electrohydraulic Conversion (110 kW)
Diesel Engine (98 kW)
+ Water-Resistant Air Intake and Exhaust Device

Shipboard Support Unit
Generator + Inverter Control Panel
Not Required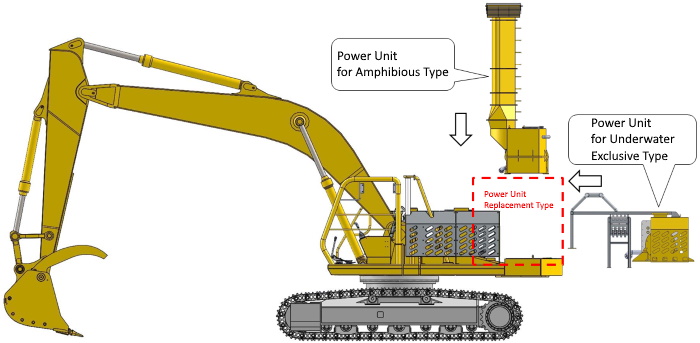 Merits of Leveling Rubble
Comparison Item
Construction by Underwater Backhoe
Manual Construction
Wave
H 1/3 = about 1.0 m from the working limit of the support mother ship
->Improved the working ratio

The working limit is about H 1/3 = 0.5 m since the diver boat is small.
Tidal Current
The operational limit of the diving operator is about 2.0 knots.
->Improved working efficiency
The work limit for leveling rubble is generally about 1.0 knots.
Transparency
3.0 m or more is desirable because it is a visual work by a diver.
Depending on the type of work, it is possible to grope around, but there is a safety problem.
Construction Depth
It is about 30 m because it depends on the diver's work limit.
It is about 30 m because it depends on the diver's work limit.

Construction Capacity (Human Power = 1.0)
6.0 (Depend on the construction conditions)
1.0
Unit Price of Construction (Human Power = 1.0)
0.85 (Depend on the construction conditions)
1.0
Comparison of Setting Conditions
Stone Standard: 5 to 200 kg/piece
Water Depth: average 10 m
Uniformity Accuracy: ± 30 cm
Construction Scale: 2,000 m2 or more
Rubble Leveling by Human Power and Big Crab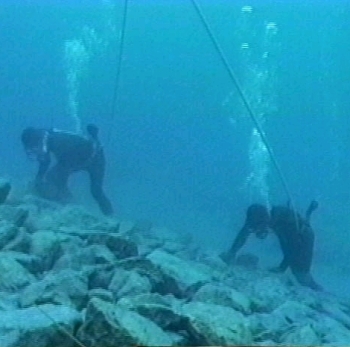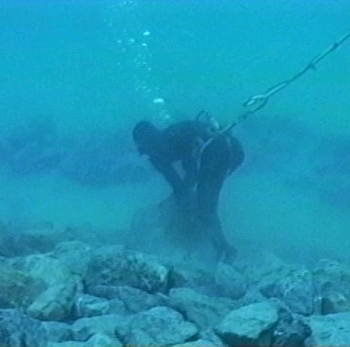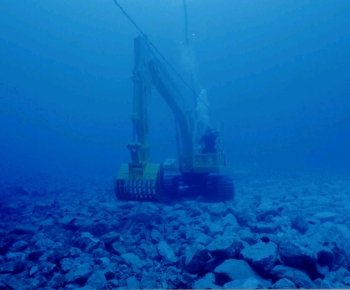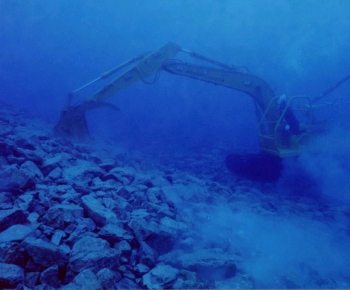 Applicable Type of Work
The "Underwater Backhoe Big Crab" can handle a wide range of underwater operations by installing various attachments in addition to leveling rubble with ordinary buckets.
Type of Work
Foundation Rubble Leveling
Cable Burial
Covering Stone Leveling
Rock Fracture
Consolidated Clay, etc.
Attachment
Baguette
Tamper
Jet Lift
Covering Bucket
Underwater Breaker
Twin Header
Tamper- Rolling Compaction, Compacting, and Leveling of Rubble
Jet Lift- Burying Submarine Cables
Covering Bucket - Covering Stone Leveling, Installation and Removal of Root Protection Blocks
Underwater Breaker- Rock Fracture
Twin Header- Cutting Solidified Clay, etc
Remote Construction of Submerged Backhoe by Remote Control
We developed unmanned construction technology for underwater backhoes that can be remotely operated reliably in deep water or under poor visibility conditions through joint research with the academic and public sectors in R&D.
We aim to apply this technology to actual construction as soon as possible while improving the technology to reduce costs.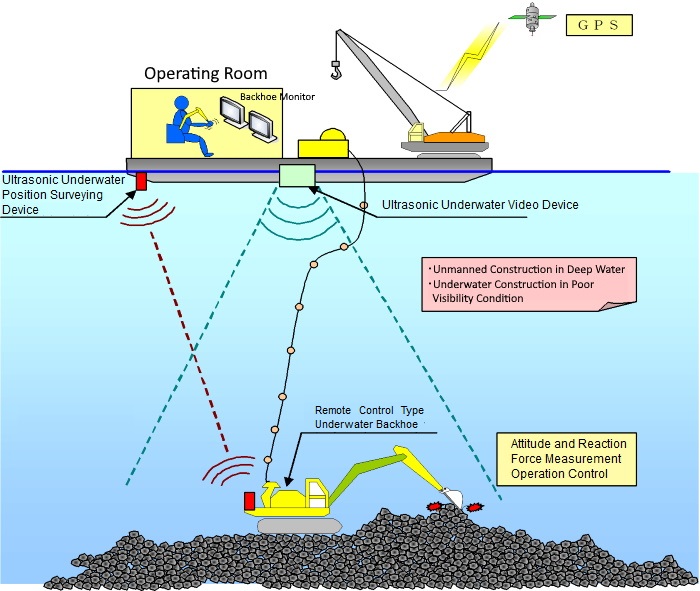 Projects
34 from National Institutions, 8 from Local Governments, and 8 from Private Sectors
(As of the End of Fiscal 2014)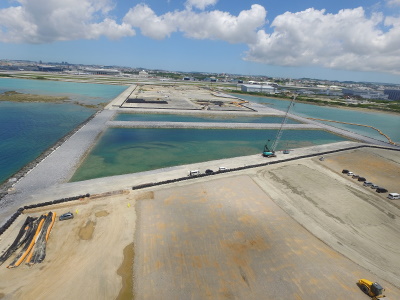 Naha Airport
Naha City, Okinawa Pref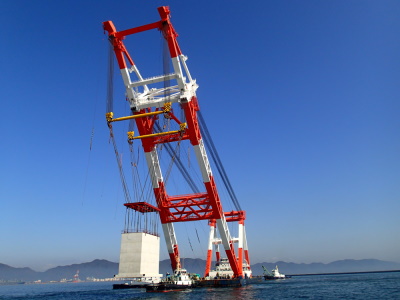 Construction Work on Outer Port of Sakaiminato and Wharf in Nakano District
Sakaiminato City, Tottori Pref